You are here
Back to top
The Hoosier Mama Book of Pie: Recipes, Techniques, and Wisdom from the Hoosier Mama Pie Company (Hardcover)
Browse Books disclaimer
Please note that some books listed in our "Browse Books" section are NOT immediately available in our store. Those books must be ordered but they usually arrive promptly, within 2-3 days.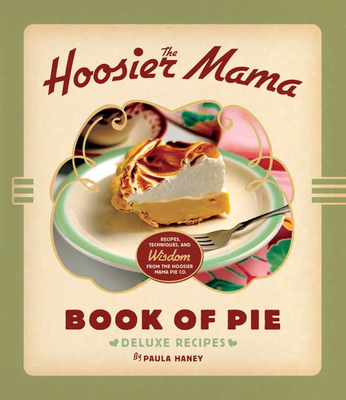 $29.95
Usually Ships in 1-5 Days
Description
---
When Paula Haney first opened the Hoosier Mama Pie Company on March 14, 2009 (Pi day, appropriately enough), she worried whether her new business could survive by specializing in just one thing. When she opened her storefront that morning and saw a line around the block, she realized she had a more immediate problem: had she made enough pie? The shop closed early that day, but it has been churning out plenty of the Chicago's most delectable pies ever since. Since starting her career as a pastry chef at Trio, one of Chicago's top fine-dining restaurants, Haney dreamed of opening her own pie shop. Exhilarating and exhausting days spent creating fabulous new desserts to keep up with the restaurant's head chef--a then-unknown Grant Achatz, who would go on to culinary superstardom--left Haney in search of classic comfort food on her days off. Her disappointment in being unable to find a good slice of pie in all of Chicago led her to one conclusion: she needed to open her own store. Specializing in hand-made, artisanal pies that only use locally sourced and in-season ingredients, Hoosier Mama Pie Company has become a local favorite and a national destination gaining praise from Bon Appetit, the Food Network, and Food & Wine as one of the top pie shops in the country. Now, The Hoosier Mama Book of Pie delivers all the sumptuous secrets of buttery crusts, fruity fillings, creams and custards, chess pies, over-the-top pies, and even the stout and hearty savory pie. The practically oriented, easy-going, and accessible style of this book will help bakers both new and old make the perfect pie for every occasion. On top of all of this, The Hooser Mama Book of Pie also includes tips on technique, fascinating historical anecdotes, and an emphasis on special seasonal recipes, as well as quiches, hand pies, and scones. This beautifully photographed and designed book has the classic retro feel of the mid-20th century golden age of pie, and all the warmth and personality of the Hoosier Mama Pie Co.'s cozy Chicago storefront. The focus on using local produce and employing the farm-to-table philosophy gives the book a contemporary twist, helping home bakers make the freshest, most delicious pies imaginable. Now readers can take a little piece of the Hoosier Mama Pie Company anywhere they go.
About the Author
---
Paula Haney founded Hoosier Mama Pie Company in 2005. An Indiana native, she was formerly the head pastry chef at Pili.Pili, One Sixtyblue, and Trio, where she worked with head chef Grant Achatz. Haney and her husband live in Chicago, IL. Allison Scott works at Hoosier Mama Pie Company and develops their savory pies. She lives in Chicago, IL.
Praise For…
---
"Inside an unassuming storefront on Chicago Avenue sits one of the city's favorite bakeries, Hoosier Mama Pie Company. Run by passionate pastry chef Paula Haney, the small, sunny bakery is forever filled with pie-loving locals who can't get enough of Hoosier's flakey, buttery crusts and fresh fillings that range from sweet to savory." Food & Wine, named one of America's best pie spots

One of the "Top Ten Best Places for Pie." Bon Appétit

"Extraordinarily delicious." Rick Kogan, Chicago Tribune

"I am ready to nominate Hoosier Mama proprietor and pie-ologist Paula Haney for a MacArthur genius grant. That's how delicious her pies are." Ed Levine, Serious Eats

"Paula Haney's incredible hand-baked creations will set you back on your heels." Chicago magazine

"A dessert that's fit for The King!" Duff Goldman, Food Network's Sugar High, on Hoosier Mama's Fat Elvis Pie.

"There's a secret to making great pie crust. And Paula Haney knows it. ...A slice of any [pie] is a bite into American pie culture." Midwest Living

"Haney has cultivated a devoted following in Chicago with her perfect pies." Robin Amer, Dynamic Range, WBEZ-FM Chicago

"Everything has a very homey appeal to it while still holding on to the fine touches of a gifted pastry chef.... Hoosier Mama is a must." Jeff Pearl, CBS Chicago

"The pies are, in a word, extraordinary." Time Out Chicago

"The best pies in town...Last week, a friend came to visit and brought along two mini Hoosier Mama Pie Company pies. Result: she is now my favorite person on the planet. All kidding aside, a pieespecially if it's an apple or chocolate chess pie from Hoosier Mamapretty much says love." Kate Stahl, PopSugar

"Nostalgia and our national sweet tooth are nudging some bakers into the kitchen to give pies a try. Old-fashioned pies especially. Paula Haney understands this." Judy Hevrdejs, Chicago Tribune
Please Note:
Bookmamas will NOT be purchasing ANY used books until further notice.